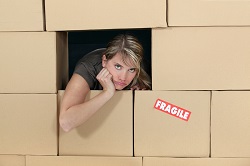 Complete Checklist for Moving House To Wales
When you are moving home to Wales, things can be a little confusing and there is a lot to do, from redirecting mail to figuring things out in your new place. Let this moving checklist be your helpful guide in the essentials that will need to be done during a move. Make sure you plan ahead and give yourself plenty of time to ensure you are not rushing at the end to get everything done.
- Call round moving agencies. Decide whether you want to go ahead and hire in some moving professionals, a man with a van or just hire your own moving vehicle. If you are going ahead without furniture, moving out of your parents or a furnished apartment then a few friends will probably be enough. For larger moves to Cardif, for instance, you are going to need more help. Leave yourself time to call around and find the right company to suit you and your budget, do your research and let the company know exactly what you expect from them.
- Clean your old home. If you have been renting then you will probably be looking to get your deposit back, so make sure that you leave your old place looking as good as it possibly can. If you have the budget, then hire a professional cleaner to take some of the extra work away. If you are going to tackle the cleaning yourself then make sure you plan some extra time to get things done. Move all your stuff first so that you can get a really good clean in.
- Think about storage. Removals and storage are two types of companies that you should look into when attempting a big move. Maybe you are downsizing to a smaller place or just want your new home to be clutter free. It's always a good idea to take advantage of a storage unit, you can hire some fairly cheaply and locally to your new area and they can be very useful in providing you more space in your home. Now is the time to do it when you have probably already hired a moving vehicle.
- Get the little bits done in advance. All the small parts of moving are a hassle so make sure you get them all down on your list and sort them out early. Call your old suppliers and cancel your contracts, let them know where to send the final bill if you are already on the move. Some places will transfer your contract over such as TV license, so don't forget to let them know your situation. Redirect you mail as well as changing address to ensure no important post goes missing.
- Get boxes. Packing can start early if you have the containers lying around to put stuff in. Invest in some boxes, go to your local supermarket and ask if they have any spare or ask around. Chances are you will have some friends who have recently moved and therefore will be able to lend you some of their old boxes. Get these well ahead of your move so you can begin the packing process early, help yourself get organized and feel more prepared.
- Arrange a date. Get a date in place for your actual move so that you can tell your friends if you are doing small removals or get movers in place for a larger move. The most important thing about moving to Wales is to be prepared, if you know a date you are working towards, you can ensure you have everything packed up and ready to go by then.