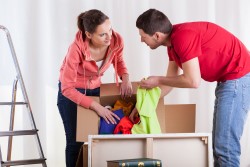 Be Careful When Plan Your Move To Switzerland
If you're thinking of conducting a removal to Switzerland in the near future, it's definitely a good idea to plan it out. There's a lot to keep in mind, and moving house in general can be tough, but if you break everything down it can be made simpler. Think about what you should be doing before, during, and even after the move, and organise it by considering these segments of the move as separate entities. So, without further ado, here's a quick moving checklist!

Before:
First, have a clear out. You won't be bringing absolutely everything with you on your move to Geneva, Bern or another city in the country, so get rid of the clutter. This makes the packing easier to do, and makes the move less expensive as a result. Damaged goods should be recycled or thrown away, so hire a skip if you think you'll need it. As for items that have life in them, but you no longer have any use for – simply donate or sell them to help cover the moving costs!

Get all of the removal services hired and arranged in advance, so you don't feel like you're pressed for time. A team of movers shouldn't be hard to find, but make sure you shop around, and do your research before deciding to hire. Look up reviews, and weigh up your options. Do you need a removal company, or a man and van mover? You could save yourself time and money by choosing wisely.

When it comes to the packing, make a list of the most important items, and only tick them off once you've packed them away. This is a simple way of ensuring that you don't forget anything critical. Also, be sure to use sturdy packing materials. You might save a few quid by using old boxes rather than proper moving containers, but you'll pay the price if they break – don't take the chance! Wrap the fragile items in bubble wrap, and use some good, thick tape to keep all of the boxes sealed.

On the day:
If you're going to be on the road for a while, pack some food and drink, and have your journey's directions close to hand. Be sure to schedule some rest stops and perhaps a driver change too, so everyone can be well rested. Moving documents are also important, so keep a folder close to hand with them in.

If you have elected to move without the aid of professionals, be careful about it. The furniture and larger objects should be loaded first, and make sure that everything is secured with guide ropes or elastic cables before you set off.

Once your removal is completed, keep in mind the order that you unpack the rooms in. Get the bedrooms and kitchens sorted first, so you can get properly rested and settled after a long and exhausting move. Moving house to Switzerland can be a difficult process after all, so take it easy at first.

After:
After you've properly arrived, getting settled in is the next step. The best way to do this is to get to know your surroundings. Make a note of the conveniences, landmarks, pubs – you name it. Chat to your neighbours, too, so you can get some valuable insight on the best places in town. After that, it should be smooth sailing...

So if you're looking to move to Switzerland, just keep the above things in mind, and you'll have a much easier time of it. A stress less move is the best type of move, after all!