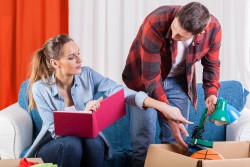 Packing Up Your Office Efficiently When Moving to France
When a business flourishes, it is obvious that the office would need to be shifted to a better and more spacious area at some point. Similarly, if you are planning an international office removal t oFrance, one of the reasons could be to create better opportunities for your business or it could be for reasons like lease expiration and so on. Moving offices can be a very time consuming task, especially the packing part. Here are some awesome tips on how to pack up your office for a move.

Get a quote: Contact moving companies in your area and get an estimate on how much the moving to Paris, for instance, would cost you. Companies that offer you removals in London usually offer you packing services if your budget permits it. Most moving services handle the packing, unpacking and re-organising of goods in the new office. It is strictly advised to let the movers do the packing especially when it comes to fragile and heavy items because moving to a new office is a task that requires expertise.

Plan it right: Depending on your budget, you could choose if the moving company would do the packing for you or you would be seeking help from your employees and friends. Also, it would be a great idea to ask each employee to pack their personal belongings. You may need to stock up on scissors, small boxes, medium boxes and large boxes depending on the things that you need to pack, bubble wrap and tape dispensers. Once you have these things, you can fill up the boxes by emptying the office shelves. Ensure that the boxes are not filled to the brim to avoid any damage. If you own a lock and key cabinet, you can easily pack the filing cabinet with the files inside it. But for the ease of moving to France, movers might sometimes place the files in separate boxes. Smaller items like pencils and other stationery can be placed in an envelope and sealed before placing them into the boxes.

Hardware and computer stations: It is important to pack the devices and equipment adequately so that they reach your new office in France in good condition. Don't forget to take a backup of important files before you start packing the computers. Hiring a moving company will save you the hassle of packing any hardware; you can simply hand over the task to the expert movers. You may have to call a computer consultant at your new office to assemble the devices.

Packing details: It is a wise approach to put all the important files or other such things into an 'Essentials' box and each box has to be labelled separately so as to simplify the process of packing. Don't forget to stick 'Fragile' stickers onto the boxes containing fragile items. Accordingly, you can ask the hired man and van to load the 'Essentials' box in the end so that you can take it out first when you move into the new office. The size of the boxes would be decided by the area and space in your office. It would also be beneficial to mention on the box label where the contents have to be placed in the new office. Such systematic process will reduce the impending stress. The movers generally wrap the furniture with bubble wrap and most movers don't pack the plants.

Snacks and beverages are probably a good thing to add to the list since the packing could get pretty exhausting. These guidelines would ensure a smooth move to your new workplace.