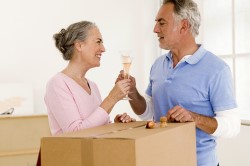 Tips for Right Moving Plan
Packing before moving abroad to Sweden can get tedious. But don't worry; we have some tips that can help you sail through with ease. The first thing to keep in mind before you start packing all your belongings is to make a list of all the things you intend to take with you. If you don't think you are going to use an item, then discard it immediately. Here are a few key areas that should be considered.
Electronic Gadgets
While packing for a move to Sweden, you need to figure out whether you will be buying new gadgets including television, microwave, etc. for your new house. If that is the case then it is advisable to sell your old equipment before your move. Always remember to make backups of your important documents, photos and videos onto your secondary storage devices like external hard disks so that you don't lose any data during the move. There's always an option to exchange the old gadgets for new ones at select stores.
Furniture
You need to check whether your new house or office is already furnished. If that is the case you want to sell some of your furniture, give it away to charity or move it to a storage unit. A number of private storage spaces are available on the basis of monthly/yearly rental and size. Select the one that meets your need.
If you plan on moving into an unfurnished house in Stockholm, for instance, you would need to compare and check the prices to move your furniture to the new location with man and van services, or other removal companies. Check if the cost of the new furniture is cheaper than the transportation charge. If yes, then we will strongly suggest you to go for the new furniture.
Wardrobe
You need take a practical view when you pack your wardrobe before a move. Always check with the climatic conditions of the place where you are moving to. If you are moving to a warmer city as compared to yours, consider leaving behind the unnecessary clothing or maybe even move it to a mobile storage. Pack all your formal and casual clothes separately, so that when you need to find the right outfit for your office or party during the first few days of moving, it will be easier to locate it.
Official papers
When planning a move to Sweden, always double check to ensure that you don't forget to pack your important documents like passport and licenses. Always pack these documents carefully and keep them with you during the move to prevent any damage or loss. Also, keep the medical certificates and children's school records handy so that if there is an emergency, you can always find them with ease. Don't forget that you will need the previous school records to enrol your kids into the new school after the move.
Seek help
There are a number of removal services that will provide you with end-to-end support with the entire house move. A month before the move, get a quote from a reliable removal company. You can also ask them to handle the packing and unpacking of goods. Most relocation companies in London will also assist you with self storage.
So plan it right and your house move will be a comfortable and easy one.