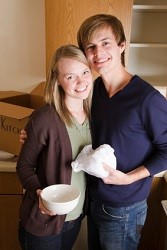 Guide For Moving Internationally To The Netherlands
So you have decided to go for a really big relocation to the Netherlands and are moving to a whole new country. Yes as if moving is not stressful enough, now you have a lot more to think about such as visas, work permits and tax paying in another country. The big move shouldn't be the biggest of your stresses however. As much as it may seem daunting, it need not be as bad as it seems.
• Look into removals and storage. As much as you might want to get a removal company to help get some of your stuff around. Storage can be a great temporary option. You can't really get a feel on a place until you have been there for a few months and it's a good idea to head over to your new home in Amsterdam minimally until you know what you want. Putting large furniture into storage can bide you time on whether you want to ship the items over to the Netherlands or sell them. It may be that you can find nicer furniture where you are moving to that will work out cheaper than the shipping costs.
• Shop around for movers and shippers. Shipping costs and the price of a removal van can vary between companies to company. That's why it's so important to leave yourself enough time to get some research done. Look to other people who have recently shipped items and how they went about it. It can be really useful to have stuff delivered right to your door but make sure there is not a cheaper way, such as getting a local removal company to pick it up from the airport.
• Look into baggage allowance. If you are travelling by plane or even train, then it is worth looking into how much your airline will let you take on board. Some places will allow extra baggage for little or no fee as long as you book it in advance. Just watch out about going over your allowance and not letting them know until you are about to fly as this is when costs can really add up and often you are in a position where you can't say no.
• Get prepared. A move abroad is going to take that much more organisation so make sure you plan ahead. Make a moving checklist and if you can get someone close to your new area to help out with a few arrangements then this can be really useful in finding reliable companies, shipping things early and making sure someone is there to oversee things.
• Have a sale. A big move such as an international move to the Netherlands is a great opportunity to really start afresh. Having a sale is a really good idea to make you some extra cash and ensure that you will end up having to move less stuff. Start well in advance so that you allow your things to sell at a good price, online or maybe even in a yard sale. Chances are you will make enough money to spend on new items when you have made it to your new home. It will be very satisfying to begin your new life with new things.
Such a big move takes that bit more organisation but it doesn't have to seem completely impossible. The trick is to take your time and if you can stall moving things all at once then you will find you can plan ahead a bit easier. Despite the effort, such a big move can be very rewarding and will end up being worth it all in the long run.