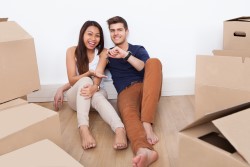 Tips On How To Organize A Stress-Free Moving To Ireland
Moving abroad to Ireland is not easy in any way at all. It's a big challenge and requires a great deal of energy, patience, dedication and thorough hard work. Even if you do hire a professional removals company for help, you still have a lot to do that a company can't do for you. The best thing you can do is follow these easy steps and this way, you will have smooth and easy removals. Moving to a foreign country and leaving behind everything that is familiar to you is not easy. Indeed, it takes a lot of guts. If you are feeling brave, go ahead and start your new adventure as soon as possible. But here are a few things you need to do in advance to get ready for it and have the move you long for.

1. Make a moving checklist
A checklist is absolutely invaluable when you relocate to Dublin, for instance. It helps get your move organized and planned and also gives you a rewarding feeling as you tick off everything you have done. So get a pen and a sheet of paper or notebook and write down, in bullet points, every task you need to do leading up to moving day. Whatever you can think of, jot it down; otherwise you may easily forget it. By having a checklist, you can make sure you have everything written down so nothing slips your mind. Then, check off each task as you carry it out.

2. Don't rush
When you are excited, as you probably are for your move, it is easy to rush everything so that it can all be done quicker, but you shouldn't. Most of the time, when you rush things, it only causes problems and errors along the way, leading to more stress. Plan everything thoroughly and take your time to make sure everything runs as it should.

3. Packing materials
Of course, unless you are hiring a professional company for packing, you need to get your packing supplies in, like boxes, bubble wrap, tape, and so forth. Then you should start packing all of your belongings. It would be good, if you are doing it by yourself, to do some research on how to pack properly so none of your things gets damaged.

4. Contacts
Contacts are everything when you are moving house – especially when you are moving to another country, in your case Ireland. So make the most of online forums, ask around, get in touch with estate agents and make sure you get some credible contacts in your new country. You want to make sure you are prepared in advance. Contacts are so important and it really is about who you know.

5. Tie up loose ends
Before you go, make sure you tie up loose ends, like saying goodbye to friends and family – maybe have a party. Also, make sure you have all the correct documentation, sort out unpaid bills and make sure they get paid and unsubscribe from any subscriptions, etc. It's a good idea to makes sure all of this is sorted out before you move.

Relocation, especially abroad, is never easy and requires a lot of preparation and hard work. Provided that you follow the simple steps above, your move abroad to Ireland can be easy and stress free. There are also many removal companies out there that can help you and offer you advice if you need it. It's definitely worth using a professional moving company when you move abroad because it's so much harder trying to sort out hiring a van and so forth yourself. It's good to rely on experts.